printable version
Migration from factory automation to process engineering
October 2021
Systems integration and design of control systems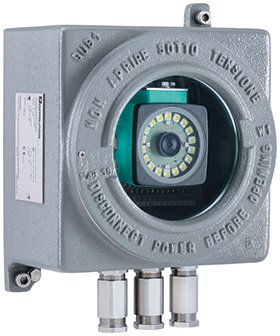 The very dynamic world of industrial automation relies on sensors with a wide variety of technologies available. While these sensors also meet the requirements of hazardous areas, several of them could also prove useful in process automation. Pepperl + Fuchs has developed a whole range of high-tech sensors which have proven their worth in discrete applications. With explosion protection, they are also suitable for process engineering in zones 1/21 and 2/22.
The digitization of process information forms the basis of modern automation and Industry 4.0 solutions. It enables remote access to device data and parameters, predictive maintenance and data-driven process optimization. Baseline data is largely provided by sensors. The wide variety of these devices in the factory automation world is almost unmanageable. They are adapted to the very differentiated technology of discrete manufacturing processes and their development reflects the short-term cycles and the strong dynamics in this field. The processing industry can focus on significantly longer cycles, but it can benefit from rapid technological advancements in sensor technology for factory automation.
It is important to ensure that the mechanical integration of the sensors is as simple and standardized as possible. Reliable explosion protection for devices is an essential prerequisite for their wide and flexible use in process technology. The costs of acquiring and maintaining sensors usually play only a minor role in large factories in process industries, compared to spending on permits and certifications needed in explosion protection. Sensors are often needed in particularly exposed areas, which creates additional challenges. The potential of devices that were originally developed for factory automation can be best illustrated through case studies.
Collision protection
When filling tank trucks with chemical fluids or petroleum products, personnel should be present on a mobile platform above the vehicles. This workspace must naturally be protected against the risk of collision to ensure that any bad decision has no impact. Together with a manufacturer of these devices, the experts at Pepperl + Fuchs helped transfer a proven process from the non-hazardous area to the hazardous area. The R2000 2D laser scanner is mounted under the platform railing and its scanning field is directed towards the vehicle area.
If the lifting platform is lowered too close to the tank before the filling process, the sensor triggers a double warning signal – a flashing light and an audible signal. At the same time, the platform automatically stops. This protection circuit reliably prevents damage to equipment (platform and tank) and prevents dangerous situations for operating personnel. For use in hazardous areas, the laser scanner was placed in a pressure-resistant aluminum housing with integrated viewing window. It is approved for explosion protection zones 1/21 and 2/22. To prevent scattering and distortion of signals by refraction, the sensor is mounted in the housing at an angle of 15 degrees.
Object detection
Sensors that use the method of recording time-of-flight (Pulse Telemetry Technology – PRT) are ideal for fast and reliable object detection. Pepperl + Fuchs offers sensors with Ex-d housings. A powerful light source in the sensor emits short pulses which are reflected by the target object and then captured by a very precise and light sensitive receiving element. The internal sensor electronics use the execution time of the light pulse to calculate the distance to the target object. This technology is used in the manufacture of flexible pipes and conduits for the production of petroleum. The VDM28 series sensors have a detection range of up to 50 meters. They monitor locations in the hazardous area and record the amount of material in stock. If a defined marker is exceeded at one location, the sensor signal triggers automatic processes for stock replenishment or material ordering.
The list of examples is endless. Pepperl + Fuchs offers both application-specific solutions and ready-to-use standard products. Equipped with a pressure-tight (explosion-proof) encapsulated housing, the sensors can capture many different process-related variables and provide the information basis for their automation. A wide range of standardized and certified sensors is approved for zones 1/21 and 2/22. In addition to the sensors already mentioned, IQH and IUH explosion-protected read / write heads and sectional laser light sensors VLM350 are also available.


Credits)
Further reading:
Pepperl + Fuchs acquires Aava Mobile Oy
October 2021, Pepperl + Fuchs, News
On September 2, Pepperl + Fuchs strengthened its Mobile Computing and Communication business unit with the acquisition of Aava Mobile Oy.
Read more…
---
EtherCAT saves space in wind turbines
October 2021, Beckhoff Automation, Systems Integration and Design of Control Systems
At this year's Husum Wind in September, Beckhoff demonstrated his many years of know-how and his wide range of products for the wind industry.
Read more…
---
Intelligent production line configuration
October 2021, Iritron, Systems integration and design of control systems
In the discrete manufacturing environment, a tool change or reconfiguration of a production line is a major cause of lost production.
Read more…
---
Totally Integrated Automation – added value in three dimensions
October 2021, Siemens Digital Industries, Editor's Pick, Systems Integration and Control System Design
Find out all about TIA, Siemens' leading automation concept, and how it all works together to create a unique product for machine builders and industrial companies.
Read more…
---
Intelligent water system management
October 2021, Saryx Engineering Group, Systems integration and design of control systems
The Saryx Engineering Group relies on digital technologies to more efficiently manage the storage, flow, use and treatment of water.
Read more…
---
The brewery of the future
October 2021, Siemens Digital Industries, Process Dynamics, Systems integration and design of control systems
Meeting current and future customer requirements quickly and with the highest quality is key in the food industry.
Read more…
---
Open automation helps to optimize the concept of the cutting machine
September 2021, Beckhoff Automation, Systems Integration and Design of Control Systems
Industrial PC technology and EtherCAT elevate Trumpf 3D laser cutting systems.
Read more…
---
Future-proof industrial networks with technology from Pepperl + Fuchs
September 2021, Pepperl + Fuchs, Systems integration and design of control systems
Preventing unplanned process downtime, maintaining the big picture, and ensuring security are key requirements in modern cloud-based applications.
Read more…
---
Siemens, Dow and MxD develop automation test bench
September 2021, Systems integration and design of control systems
Siemens is collaborating with Dow to showcase the future of automation with a test bed for the process industry at MxD, a leading manufacturing institute and an innovation center in Chicago. This …
Read more…
---
Change in pharmaceutical production
August 2021, Instrotech, Systems Integration and Design of Control Systems
Instrotech, through its principal, Siko, increases the efficiency and production quality of machines by providing intelligent positioning systems for machine manufacturers and end users in the pharmaceutical industry.
Read more…
---